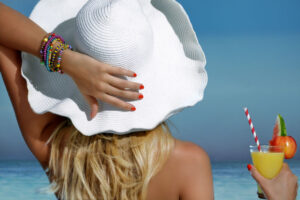 Haircare is an important routine that requires different maintenance techniques based on the season and the activities that time of year brings. This summer, some simple additions to your routine can leave you with nourished, beautiful hair without breaking a sweat (or the bank)! Here are five hair care tips to keep your hair healthy and reduce damage.
1) Protect your hair and scalp by covering up
When hearing "summer" most people's first thought isn't "time to wear a hat." But that doesn't mean you shouldn't be considering stylish and airy head coverings when getting your new summer wardrobe! A lightweight headscarf or a wide brim beach hat can be an accessory and a great protectant for your hair and skin. Add some hair sunscreen to your hair and scalp for some added protection.
2) Add some extra moisture with a deep conditioning treatment
Hydration is key in every season, and that doesn't just include our bodies! Take some self-care time with a cool shower and use a rich conditioning treatment to nourish and revitalize your hair. There's no shortage of options, from deep conditioners to hair oil treatments. Coconut, avocado, argan, and even olive oil work beautifully for at-home oil treatment. Massage your oil of choice into your ends up to your roots after shampooing- rinse with cool water, then follow up with your favorite conditioner.
3) There's enough heat in the summer- leave the hot tools at home
Put down the blow-dryer for the season and allow nature to make quick work beautifully airdrying your hair. After showering, gently pat dry your hair with a towel to absorb any excess water, and that's it! Try spraying a leave-in conditioner in your hair before letting it air dry for added moisture.
4) Swap out your old brush with a wide-tooth comb
Hairbrushes can collect dust and debris, and they are more likely to cause damage to your hair. A good solution is a wide-tooth comb: they're easy to clean and can more gently work through tangles. Always remember to comb from the ends up and avoid combing wet hair.
5) Avoid tight hairstyles
It's tempting to throw all your hair in a tight bun high atop your head, but doing so can cause damage, breakage, or exacerbate hair loss. Instead, opt for looser hairstyles, such as big braids or a loose messy bun.
Even though these are great hair care tips, hair loss can still occur. If you notice that you're experiencing hair loss, contact NM Hair Replacement Studio to learn about our hair restoration services and receive a free consultation. Give us a call today at (718)267-2516 to get started!