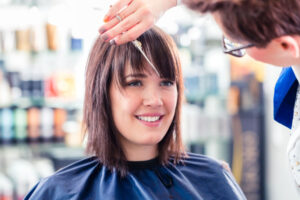 There are many causes for thinning hair, including age, over-processing your hair, stress, using the incorrect products, conditions like Alopecia, and more. When you are in the process of understanding and figuring out the cause of your hair loss, there are some simple things you can do to hide the issue.
Here are a few easy ways to hide thinning hair to feel confident in your appearance again!  
Get a Haircut
Although getting a cut when you are suffering from thinning hair might sound counterintuitive, it can really do wonders for the overall appearance of your hair! An easy way to quickly create the illusion of thick, full hair is to snip a few inches off and add some layers. Shorter hair naturally creates more volume as it is not weighed down. Strategic layers can also add volume to thinning hair. Ask your hair stylist to add layers around your face and leave the back fuller to create body and volume.
Use Volumizing Products
A volumizing shampoo combats limpness and puffs up the hair to hide thinning. Choose a shampoo that is alcohol and sulfate-free as these ingredients can be very harsh on the hair and further lead to hall fallout and thinning. You can also add additional volume by working a volumizing mousse through the hair before blow-drying. Try and stay away from ingredients you can't pronounce, as these can weigh the hair down.
Zigzag Your Part
Straight hair parts can enhance the appearance of thinning hair. Try changing things up instead and add a zigzag pattern to your hairdo. To create a zigzag hair part, cross small sections of hair over your natural part, changing from left to right. You can also part your hair on the opposite side to cover thinning patches.
Invest in Non-Surgical Hair Loss Solutions
After you have tried using your existing hair to its fullest potential, it might be time to consider some non-surgical hair replacement solutions. Our expert hair specialist at NM hair Replacement Studio will design a hair replacement system that will blend completely natural with your existing hair! All consultations and services are done in complete privacy and with personalized care. 
Contact us today at (718)267-2516 to discuss your hair non-surgical loss solution options privately!