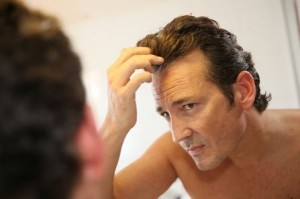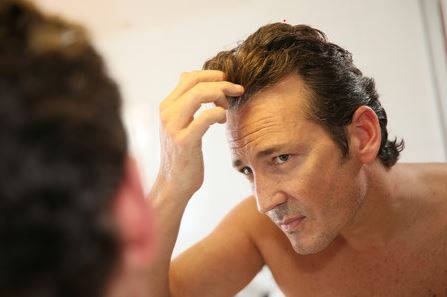 Did you know that most men will experience some form of hair loss in their lifetime? By the age of 20, 20% of men experience visible hair loss. These numbers are determined by genetics. If their father has/had hair loss, there's a strong chance they will, too.
Here are a few early hair loss warning signs for men to watch out for!
Receding Hairline
For starters, look at the hairline. If it starts receding around the temples and "in the front" such that it looks like you're losing hair and gaining forehead, then male hair loss could be occurring.
Overall Thinning
Next, check for hair thinning at the crown, that spot on the top of the head toward the back, where most men typically lose some hair. Typically, parts of the scalp will be visible instead of seeing hair there. For white men with dark-colored hair, it will look like a white/grey line or formation– the beginning of a hair loss area.
If you find your hairline receding and thinning at the crown, check if you get curly hairs over the ears and the hairline on the neck. Curls in these places signal the occurrence of male hair loss.
Shorter Hair Growth Cycle
When hair follicles shrink, the new hair from the follicle becomes thinner, and the hair growth cycle becomes shorter. The hairs grow and shed in a lesser time frame than they used to earlier. If your hair is not growing at the speed it used to grow, it may be a sign of hair loss.
Thankfully, modern hair loss solutions will give you a full natural head of hair with a completely undetectable hairline! NM Hair Replacement Studio has proudly served the hair replacement industry for over 20 years. We take pride in making our clients look like the hair is growing out of their scalps for both men and women.
Contact us at (718)267-2516 for a free consultation or hair and scalp analysis today!