Welcome and Thank You for your interest in our services. With over 20 years of experience, NM Hair Studio is your premier hair restoration studio in Queens, NY. Contact us today for a Free Consultation to answer all your questions regarding your options for your hair loss needs.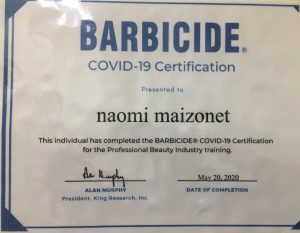 NM Studio offers services for all types of hair loss. From thinning hair, alopecia, and medically related hair loss. The solutions at NM Studio are customized for every individual.
COVID Policy
Our most important priority is the safety of you and our staff. NM Hair Restoration Studio has completed the Barbicide COVID-19 certification.
I've nothing but good things to say about my experience with Naomi and her studio. I've been going to them for over five years. They are always accommodating of my schedule, and they make sure that I am happy with my haircut. It's always pleasant dealing with everyone in the studio.
I been going this place 3.5 years, the best place in NYC with price as well as services. Even 2 of my friends just start with hair studio 6 months very happy with the work very safe and clean atmosphere Thanks for everything
CHARLES SHIBETTI
2023-07-24
I have been going to NM Studios for now WELL OVER TEN YEARS....and WITHOUT a Doubt in my mind...it was one of the GREATEST decisions I have ever made. I was a losing Confidence and the depression was becoming a serious issue...especially being a Promoter in the hospitality industry ..but when I first saw Naomi..and after that consultation and subsequently first system...I was BACK and better than ever one of the BEST event coordinator...and CONINTUE to be LOL. Both Naomi and Karen obtain ONLY the FINEST products..not just the systems but the Sprays..Shampoos.. even the brushes are ALL TOP OF THE LINE. They pay attention to LITERALLY EVERY SINGLE DETAIL and I could even say every strand of hair. They will ask how you want things to look and of course give your their EXPERT opinion..always letting you know what they are doing and why. Before I even knew anything about NM Studios..I had tried to see other places back then Joseph Paris..Men's hair now..Hair Club..Thank God I had the foresight and the "Gut feeling" to go that first time with "NM". If Anyone ever wants to see me and how I am in and out of my events..just let Naomi know and I would be glad to show you..because I KNOW how difficult it is to go through that feeling of not SEEING yourself on the OUTSIDE of what you FEEL on the inside.
I am a very happy client of NM Hair studios. A very dear friend of mine referred me to Naomi Maizonet (owner of NM Hair Replacement Studio) several years ago and making an appointment with her was the best decision I ever made. I've gone to other salons for many years and I can honestly say that there's no one better than Naomi (and Karen). Her meticulous attention to detail ensures that I always leave her salon looking my best. There is no better combination of talent, color/styling expertise and value than this outstanding team. If you are considering hair replacement services, look no further. I was a client of an exclusive Manhattan salon for years before I heard about NM Studio - they were good, but nowhere near as talented as the NM Studios team. Naomi and Karen are the best in the business.
Ricardo Fernandez
2023-07-07
I've been a loyal client of NM Hair Replacement Studio for more than two decades. I've always experienced exceptional service. Naomi and Karen know the "devil is in the details." They provide the highest quality product and a skill level unmatched in the hair replacement business. Courteous, ethical and accommodating are hallmarks of their business practices I highly recommend these two pros to bring out your best look!..
ruben davidoff
2023-04-22
Great customer service! Truly professional and genuine people working there. Naomi is always polite and gentle. Karen is always lovely and attentive. I would always recommend
sppop spooople
2023-02-09
Very professional and friendly, always come out looking and feeling better.
Mark Bartolotta
2023-02-08
So, I decided to write a review here because of seeing one negative outstanding comment. I was completely shocked! I have to say that Naomi and Karen are top notch professionals in what they do. They provide excellent service and knowledge in this field. They also have an incredible artistic perception on how to provide the proper hair system with the right hairstyle and color that compliments you facial features. They create such a beautiful hairline from light to dense with a beautiful natural look. I have never left this establishment unhappy in over 10 years that I have been coming. My girlfriend loves the natural look and agrees with my thoughts about NM Replacement. My friends and acquaintances are always complimenting on how young I always look and that I haven't changed like in 10 years!! I can assure that if anyone is interested in a hair system, these ladies are the most caring and professional individuals in the business. I highly recommend anyone to get their hair system from them. In addition, NM has great flexible payment plans that can work within your budget. So with no offense to the person that had written the negative comment, but I dont believe that he received a bad hair system from NM. There is much more to that story than what was written. Thanks people for reading my comments but more importantly thank you NM Hair replacement for making me such a happy client!!