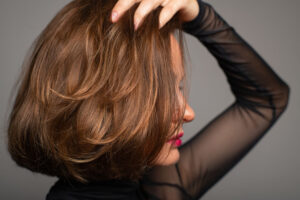 Watching strands fall to the floor while running your fingers through your hair leaves a sinking feeling in your stomach. No one wants to deal with hair loss, yet many of us experience it at some point in our lives, whether it be from pregnancy, over-bleaching, stress, health issues, or aging. It can truly make us feel alone, vulnerable, and uncomfortable with ourselves.
Here are three ways to maintain your confidence while experiencing hair loss.
1) Reduce Your Stress
Our first reaction is panic when we become aware that our hair is beginning to fall out. This is the worst thing to do because we put extra stress on our bodies which can lead to more hair loss. Try some activities that help you relax and stay calm, whether that be yoga, reading, going for a walk, meditation, painting, etc. Take your mind off your hair loss and practice some self-care. The more you stress and fret about it, the worse it can get.
2) Confide in Your Doctor
Once you've processed the initial shock, you must make an appointment with a healthcare professional to find the underlying cause of your hair loss. Knowing why your hair is falling out can give you a lot more peace of mind and confidence to take the next steps on your journey. Whether you need to change your diet, reduce your hairstyling, get more medical tests, or simply wait it out, your doctor will help you gain control over the situation.
3) Reinvent Your Style
Instead of focusing on what you are missing, work with what you have! Take this as an opportunity to reinvent your style. There are some easy ways to hide thinning hair that can boost your confidence and make you feel beautiful in your skin.
At NM Hair Replacement Studio, we specialize in treating people who are experiencing hair loss and giving them their confidence back. Our clients are men and women of all ages looking for a non-surgical way to hide their thinning hair. All our consultations are done in complete privacy, and we offer several different payment options to ensure our services are affordable. 
Contact us at (718)267-2516 for a free consultation and speak with a knowledgeable hair loss specialist!