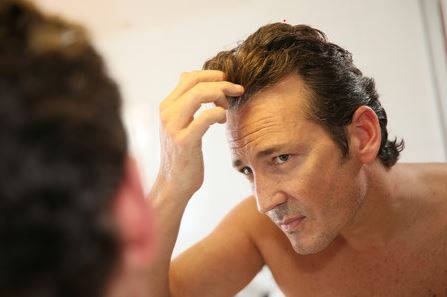 Did you know that most men will experience a form of hair loss in their lifetime? If you have three middle-aged men together in a room, chances are two of the three will have hair loss! These numbers are determined by genetics. Some men start losing hair as young as age 18. If their father has/had hair loss, there's a strong chance they will too– like father, like son.
What are some signs to look for to figure out if you or someone you know is likely to experience male hair loss.
For starters, look at the hairline. If it starts receding around the temples and "in the front" such that it looks like you're losing hair and gaining forehead, then male hair loss could be occurring.
Next, check for thinning of hair at the crown– that spot on the top of the head toward the back where most men typically lose some of their hair. Typically, instead of seeing hair there, parts of the scalp will be visible. For white men with dark-colored hair, for example, it will look like a white/grey line or formation– the beginning of a hair loss area.
If and when you find your hairline receding and thinning at the crown, also see if you get curly hairs over the ears and the hairline on the neck. Curls in these places signal the occurrence of male hair loss.
Finally, if there's a loss of hair on the top of the head in general, with hair still growing in a "normal way" on the sides and back, then a man is most likely experiencing male hair loss.
Thankfully, there are modern-day "ways around" hair loss, such as having the experts at NM Hair Replacement Studio in Astoria literally help a guy's head of hair so that no one would even know he had hair loss! For those who want to look younger, more confident, and more virile, hair replacement is a godsend. Call NM Hair Replacement Studio at 718-267-2516 for a free consultation.