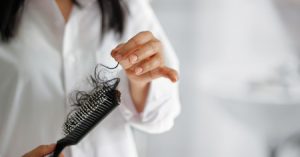 If you've been paying attention to news headlines recently, you noticed that a celebrity opened up about her struggle with hair loss. That star, Ricki Lake, is well known for her acting roles in movies like Hairspray, as well as her talk show and other projects. Well, she recently opened up about her struggles with hair loss issues over the past 30 years. And this is something many women can relate to– indeed, about 30 million women in the U.S. have female-pattern hair loss.
For Ricki Lake, she's taking to social media to show off her new short hair cut on both Instagram and Facebook. She has decided to admit to the public that she's been dealing with hair loss for nearly three decades. By showing herself with a short haircut, she's bringing a problem to the forefront that many women must navigate through.
How has hair loss made Lake feel over the years? She describes her pain with adjectives like debilitating, embarrassing, scary, depressing and lonely. She has literally felt suicidal over her hair loss issues!
It turns out she's not alone. Tens of thousands of people responded to her social media "show and tell," often with their own stories of how they've felt due to hair loss.
So what are some of the reasons Lake might have lost hair? It could be yo-yo dieting, hormonal changes, pregnancies, genetics, stress, hair dyes/extensions… you name it! Back in 1988, for the movie Hairspray, her hair was triple-processed and teased, and that's when her hair problems began.
Over the years she has seen many doctors and tried steroid shots, supplements, etc. For now, she's "going public" and being confident with the way she looks.
What can we learn from Ricki Lake's hair loss horrors? 1- It's okay to admit you have a problem rather than trying to cover it up and keep it secret. You are not alone. 2- There are several reasons you could be losing hair. 3- There is hope! Women can seek out help from professionals who can improve their looks.
In the New York City area, NM Hair Replacement Studio is the kind of place that could benefit Ricki Lake– and you. If you're experiencing hair loss, call 718-267-2516 for a free consultation.