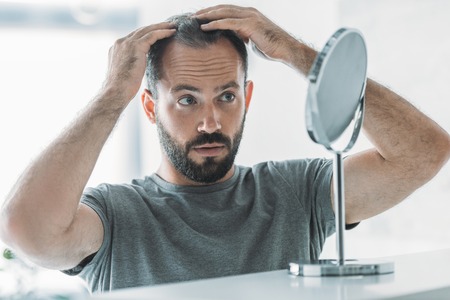 For some men with hair loss, they decide to shave their heads and go for the totally bare look. For some women with hair loss, they decide to wear wigs or hairpieces. When people lose their natural hair, they often panic. "Will I lose more? Will I lose it all?" they wonder, which begs the question, "Is hair loss irreversible?"
Hair Loss Causes
It's not unusual for people experiencing hair loss to consult with their doctor or dermatologist. They might discover the specific reason they're losing hair. For example, it might be due to too much stress in their lives, which can cause hair to fall out. Or perhaps they're on a certain medication which is causing it. Maybe they're just getting older and with age comes "male pattern baldness."
With the Right Plan, Hair Loss Can Be Reversible!
The good news is this: with the right treatment program, hair loss is actually reversible! If you find yourself with a receding hairline, thinning around the temples, or slower growing/thinner hair, consider a visit to NM Hair Replacement Studio in Astoria, Queens. Your free consultation will enlighten you to the possibilities of reversing hair loss.
NM Hair Studio has been in business for over 20 years, serving the needs of both men and women. Utilizing a non-surgical procedure for hair loss restoration, NM Hair Studio makes clients look as if hair were growing out of their scalps, naturally! NM's hair replacement system blends in a completely natural way with people's hair.
What do some people try in order to get their hair growing again? They'll resort to ideas they learn on the Internet– some really wacky ones like smearing ginger paste or cayenne pepper on their scalp three times daily. Will that work? Probably not, but people want to believe it will, and they'll "try anything."
Who are you going to trust? Something you randomly read on the Internet from a no name source? Or an actual hair loss/replacement expert, in person, at NM Hair Studio? For your free, private consultation, please call 718-267-2516.