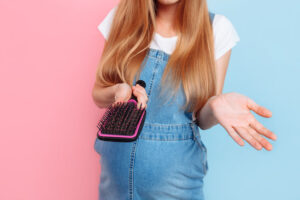 Both men and women lose around 50 to 100 hairs each day. During pregnancy, rising estrogen levels slow down the natural cycle of hair follicle shedding. As a result, some women may lose fewer hairs while pregnant, but that's not always the case. Hair loss during pregnancy is not uncommon, as it affects somewhere between 40 to 50% of women, but like most changes during pregnancy, it is temporary.
Hormonal Changes
Some women may experience hair thinning and shedding due to stress or shock. This condition is called telogen effluvium, and it affects a small number of women during pregnancy.
The first trimester may stress the body as the balance of hormones shifts dramatically to support the growing baby. Stress may put more than 30% of your hair into the telogen or "resting" phase. So, instead of losing an average of 100 hairs a day, you may lose 300 hairs a day.
Hair loss due to hormonal shifts may not happen right away. Instead, it may take two to four months to notice thinning. This condition generally does not last longer than six months and does not result in permanent hair loss.
Pregnancy Health Issues
Health issues may arise during pregnancy, leading to telogen effluvium. The shedding can be quite dramatic, especially if related to an ongoing imbalance in hormones or essential vitamins. These health issues could be anything from iron deficiencies to thyroid problems.
Postpartum Hair Loss
Many women see hair loss within a few months of delivery, generally peaking around four months postpartum. This is not true hair loss, but rather excessive hair shedding caused by a drop in the hormone estrogen. While it may be quite jarring to see 300 or more hairs shedding each day, it usually resolves itself without treatment.
If your hair loss continues or you notice other symptoms, consider contacting your doctor to see if there's another possible cause for hair loss, like alopecia areata or androgenic alopecia. At NM Hair Replacement Studio, we provide compassionate care to those suffering from hair loss. Our mission is to provide natural hair loss solutions for your specific needs and lifestyle.
Call us today at (718)267-2516 to speak with a caring hair loss specialist to discuss your options!