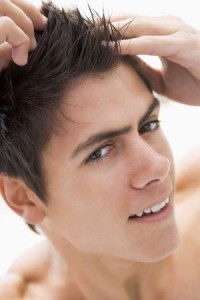 Happy New Year's Eve! Today is the last day of 2015 and the drinks will soon be flowing, if they're not already. While today and tonight are full of fun, there is a lot of reflection going on whether or not you are aware of it, pondering what changes are in store for you in the New Year, debating if you in fact will go through a metamorphosis. This might involve a change in careers, a search for love, a pursuit of passion, or change in appearance, either a wardrobe shift or maybe a reevaluation of what you are doing with your hair.
In our last few blog posts, we have focused on the emotional connection men have with their hair, their entire wellbeing depends on that thing living atop their heads. Men would sacrifice almost anything to maintain a sterling mane. The trick is to know how to maintain it but also how to experiment with it to get the most out of those follicles and since we are approaching the New Year, James Cave of the Huffington Post declares, "It is a great time to look ahead, so why not focus on the hair that's on yours?"
A good question, one that should not go ignored in 2016. In the article, Cain talks to Lorraine Carlin, the creative director and head stylist at Truman's Gentlemen's Groomers in New York City, about which styles men should pursue come January. According to Cain, there are five hot looks for 2016, each one inspired by a particular celebrity. The five celebrities are Cristiano Ronaldo, Zac Efron, Justin Timberlake, David Beckham, and George Clooney.
Remember that there is a style for every man, but you have to experiment and see what works for you and the HuffPost article provides a nice primer for what to follow in 2016. From all of us at NM Hair Replacement Studio, Happy New Year and see you in 2016.