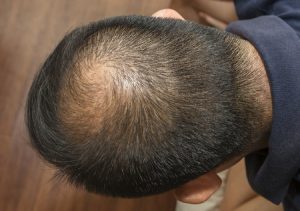 It's not that unusual to find people who are obsessed with their hair. If they don't have enough hair, they want more. If they have too much hair, they want it cut and styled. If it's blonde, they want to be brunette. If it's straight, they wonder how it would look curly. Think of all the products associated with haircare– just one visit to a typical store and you're likely to be overwhelmed by the sheer amount of hair-related products you could own and use, right?
One thing in particular that most people worry about is hair loss. It seems like people with a full head of hair live happier and fuller lives, at least according to their Facebook and Instagram posts. Who doesn't want "great hair?"
Hair loss, for some reason, causes people to worry and even lose sleep at night.
Some amount of hair loss as we age is normal and inevitable. But when should you truly be worried about hair loss? According to the American Academy of Dermatologists, shedding 50 to 100 strands of hair daily is NOT normal. If you're losing that amount of hair, something's probably wrong.
Have you noticed clumps of hair falling out together? Do you notice "sudden" hairless patches in spots on your scalp? Hmmm… you might want to check with your doctor and do some tests. You might have an underlying disease. Maybe your hair loss is due to hormonal factors and/or medications.
Besides seeing a doctor who can help diagnose your hair loss issue, you should consider a visit to NM Hair Studio. The goal of our company is to provide you with a natural looking head of hair. Using a non-surgical procedure, we can "fix" your male/female pattern hair loss, giving you the undetectable hairline you want. Want a custom solution for your hair loss? Want to get back to an active lifestyle without worrying about how your hair looks?
Call NM Hair Replacement Studio for a free, private consultation. We are located in Astoria (Queens) and our number is 718-267-2516.