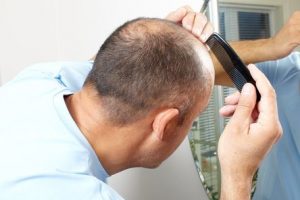 When people think of the month of August, they usually think of two things: a visit to the beach or back-to-school shopping. Did you know, however, that August is National Hair Loss Awareness Month?
National Hair Loss Awareness Month
It's estimated that some 80 million Americans are affected by hair loss– are you one of the 50 million men or 30 million women? It's never too early to start treatment for hair loss. Oftentimes those who detect hair loss do so at a point where a lot of hair is already gone– and then they wish they had paid attention to their hair loss sooner. After all, it's easier to catch and remedy something when it's "little" versus "big."
That said, there are some things you should pay attention to this month when thinking about hair loss prevention and/or potential treatment.
For instance, does hair loss run in your family? Do you tend to over-style your hair, pulling it tightly often? How about this: do you use chemicals on your hair? If you answered yes to any of these questions, you might end up wanting hair loss treatment via NM Hair Replacement Studio. Other factors that can cause hair loss include stress, medications, smoking, a poor diet and illness.
The good news is that there are minimally invasive procedures available today for those with hair loss who want to look great again. Therefore, if you're thinning, now's the time to reverse that trend. Hair replacement can be done to replace your hair and regain your confidence.
Do you have an itchy, dry, flaking or oily scalp? Does it need attention? This August, during Hair Loss Awareness Month, don't hesitate to call NM Hair Replacement Studio for a FREE consultation: 718-267-2516. Located at 30-62 Steinway Street in Astoria (Queens), NM Hair Replacement Studio serves the Greater New York City metropolitan region, with people coming from New Jersey, Manhattan, Long Island, and beyond.